A good remote communication is not done in the same way as in-person conversation with your team. If you do not adapt to communicate remotely, you are at a high risk of ruining your professional image.
When we are concerned with Covid-19, the orientation is to stay at home. And so, you were responsible for transferring your work to a bedroom or the living room of your home.
But it is not because you are in the comfort of your home that you should participate in a video conference wearing your pajamas and with your hair looking like it was combed with a cake mixer.
Here are 5 things you should know that could ruin your professional image:
1. Video conferencing: your first enemy or ally
If you are not a television artist or someone who has been trained to appear on camera, it is natural that you do not feel comfortable opening your video camera during a video conference.
But, let me say this: videoconferencing is one of the best tools for maintaining effective remote communication.
In the same way that (I imagine) you prepare when you go to visit a friend at his home, or if you organize a meeting with your team in your work environment, participating in a videoconference requires prior preparation.
Here are some tips to participate in a videoconference without ruining your professional image.
If you are meeting these people in your work environment, never appear in pajamas or with the appearance of someone who has just left the gym.
Prepare the place where you will work. Close doors to isolate noise, let people know you are on video conference and that they are not disturbing
Test your equipment. Test your microphone, video camera and Internet connection. There is nothing more annoying than what you are talking about and your microphone is not working properly.
Keep a professional attitude. Remember that during the video conference, people are watching you and it is important that you maintain a professional attitude. Do not lie down or stay in a relaxed position in front of people, even if you are sitting in your favorite chair.
Be polite …. (see what I said in point 04)
2. Email does not reflect your body language
Writing a professional email is not the same as sending an email to a friend or girlfriend.
When we write to a friend, we can use informal words and even slang. But this is not recommended in a business communication.
But this informal communication is very useful when we want to express our emotions and behaviors through words.
When we talk face to face with a person, the tone of voice, the behavior of the body, the gestures help to emphasize the message we are transmitting.
Be particularly careful when writing an email that implies a message of joy or rejection. It is not the same when you are reporting an activity or an event.
If in your message you want to express a feeling (agreement or disagreement) with another person, be careful with your choice of words.
Use the maxim: praise in public, criticize in private
In other words, if you're going to criticize, don't add your entire team  CC.
3. WhatsApp is not to be used like with your friends
Many people use Whatsapp to communicate with their co-workers. Whatsapp is not the ideal tool to use in your work environment.
If your company does not have an official chat tool, try not to adopt Whatsapp as this tool.
But Rogerio, what's the problem with using WhatsApp at work?
Very simple. You certainly use WhatsApp to chat with your family and groups of friends. And obviously you get messages all the time from these people.
Be honest. If you look at your WhatsApp to reply to a colleague and see that you have a message from your girlfriend or your college colleagues, what would you do? …. look at the messages and reply to them, right?
Now imagine that you have to talk to your colleagues at the same time using this same tool. You will spend half of your work day responding to messages that are unrelated to your work.
But there is a bigger problem in using WhatsApp. In a remote communication environment, you should always record your conversations so that they become official company information.
A corporate chat tool has features for recording message exchanges and you can use this information to share it with others.
If your company does not have an official chat tool, use one other than WhatsApp. It may even be your own email but keep an exchange of information appropriate to your work environment.
After you finish your work, you can go back to WhatsApp and talk to everyone as usual.
4. Being polite and disciplined never hurts
My grandmother always said. Chicken soup and education have never hurt anybody.
Especially in a remote communication environment, it is essential to maintain polite and respectful behavior.
But Rogerio, I'm already very polite to people …
I'm not talking about education demonstrated in person, but education demonstrated at a distance.
Some remote behavior protocols must be observed in order you show respect and education to people.
Make sure to end an exchange of messages with words of thanks and appreciation.
Confirm receipt of your messages. Some tools have features to let you know if a person has received and / or read your email, but nothing better than sending an email saying 'I received your email and will work on it as soon as possible. Thanks'
Don't be late for virtual meetings. In the same way that you should not be late in face-to-face meetings, remote meetings should also be respected in your schedule.
If you want to talk to someone for more than 5 minutes, schedule a meeting at a time when that person is available. Don't call him on Skype and spend your time on a discussion that could be scheduled in advance.
If you want to talk to someone quickly (less than 5 min) send a message in the chat asking if she has these 5 minutes to talk. "Hey buddy, I have a quick question to ask you. Do you have 5 minutes to answer now?"
Remember that you don't know if people are busy or available. Always 'knock the door' before entering … that is,' send a quick message to see if the person is available or not.
It's never too late to learn something
I know that this situation of social confinement is a major change in our lives, but I am sure that together we will go through this.
I am an optimistic person and I always try to learn from difficult situations like this. You should also try to learn something from this situation.
Developing new skills for remote communication will help you adapt more quickly in the future corporate world.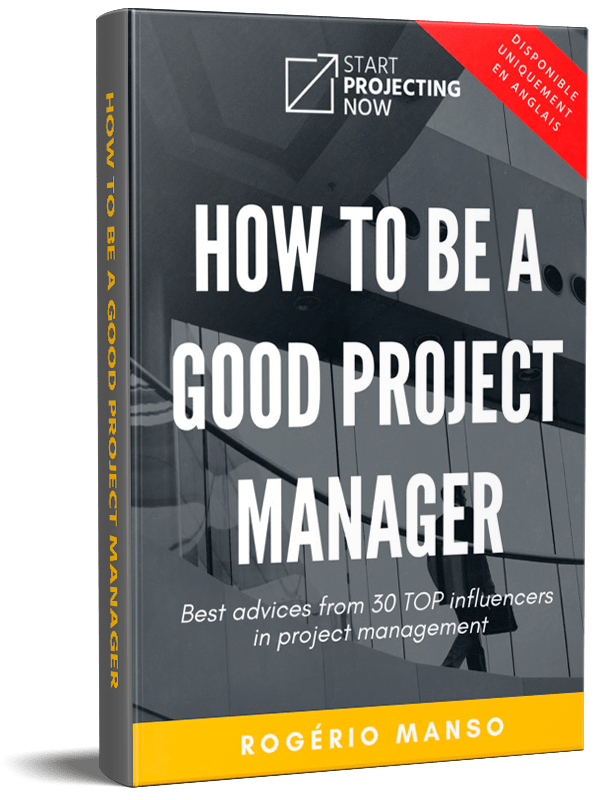 Download your FREE ebook 'HOW TO BE A GOOD PROJECT MANAGER'
Best advices from 30 TOP influencers in project management