We have constantly heard about the labor shortage in the Canadian labor market. The information technology sector suffers the most from the lack of skilled professionals in areas such as programming, management and quality.
Lack of manpower can be the result of quantitative and / or qualitative factors. Acting on quantitative factors (linked to the size of the population) is much more complex than acting on qualitative factors (training and specialization of the labor market).
In addition, it may be much more cost-effective for an employer to train and form a new employee than to hire an already qualified professional, since the labor market is very competitive, and employers tend to maintain their qualified professionals as long as possible.
So, not only is there a high demand for these skilled professionals, but also a low supply, which increases the wages of those already in the market and makes the hiring of new employees cheaper.
Now the good news…
In a recent survey conducted by the recruitment firm Randstad, the project manager is listed as one of the best in-demand job in Canada in 2019. Moreover, Agile is considered one of the best hard skills for IT professionals.
Do you want to develop your career in project management? This is an excellent opportunity to develop the skills needed to become a candidate with high recruiting potential. 
Soft skills vs Hard skills
To apply for a job, a professional must point out hard and soft skills in his/her resume.
In project management, hard skills include expert knowledge and specific technical skills such as mastering the use of project management software or any other automation tool, making use of a specific methodology or applying a particular project management technique.
Soft skills are related to your behavior, your thinking, or the way you deal with the various situations in your workplace e.g., the way you lead people, collaborate with your team, make decisions or influence other people.
Why focus on soft skills rather than hard skills?
Even if it might go against what you have always heard from recruiting agents, soft skills are in fact as important, or even more important, than hard skills. Before judging, just keep reading:
I am speaking here about a CAREER in project management and not in your first or next job. A career should be seen as your long term project
Louise Martel, a partner at Raymond Chabot Grant Thornton says that head hunters are spending less and less time evaluating technical skills to focus on behavioral and interpersonal skills. Among the most requested competencies, there are leadership, innovation, adaptation to change, critical judgment and numerical skills.
A survey conducted by LinkedIn in 2018 pointed out that 57% of company leaders stated that soft skills are more important than hard skills.
But why should we focus on soft skills rather than hard skills?
For two main reasons:
First, the rapid evolution of tools and techniques. A software used today cannot be used tomorrow. A technique or method adopted today can be replaced by a more effective one tomorrow.
Second, hard skills are easily transferable, while soft skills are not. The knowledge can be learned, while the know-how takes much longer to develop.
THE TOP 05 REQUIRED SOFT SKILLS that make you the right choice in the PROJECT MANAGEMENT job market
1. Leadership
Leadership has many definitions and no one will give you the perfect recipe on how to become a good leader. But, there is one that I particularly like:
"Leadership is the art of getting someone else to do something you want done because he wants to do it" – Dwight D. Eisenhower.
Great leaders are able to adapt to their work environment while motivating and empowering their team so that everyone can succeed together.
For this, a leader must be able to:
Know and earn the respect of the team
Understand that people are the key to their success
Help people reach their goals by encouraging and pushing them to do their best
Have a clear goal and be fantastic at articulating their beliefs
Not lead people by forcing them to do something, but instead, by motivating them to do so.
2. Communication
One of the key skills of a good project manager is the ability to communicate well. It involves understanding and being understood by people.
According to the PMI, 29% of projects in 2018 failed because of inadequate or poor communication.
As a project manager, it is your responsibility to clearly show your vision, ideas, goals, and issues, as well as produce clear status reports and project presentations.
3. Collaboration / Team working
Developing collaboration means building trust.
Projects often require people to work together in teams and / or between departments. To develop a collaborative environment, you will have to:
Be honest; work to eliminate conflicts of interest
Clarify Roles: Review team member roles frequently
Communicate Openly & Effectively: Work to clear up misunderstandings quickly and accurately (here's the communication skill again)
Appreciate Diversity of Ideas: Evaluate a new idea based on its merits
Balance the Team's Focus: Regularly review and evaluate the effectiveness of team meetings
4. Time management
Time management is one of the top soft skills companies are looking for in 2019. Managing your time and your team effectively in the face of so many conflicting demands is essential. Here are some advices to help you manage your time efficiently:
Start your day early. I do not know any successful person who stays in bed every day past 9:00 a.m.
Plan your day by setting your priorities and goals. Always update your daily appointments schedule.
Focus on one task at a time. True efficiency results in focusing on one thing at a time and ending it before moving on to the next task.
Learn to delegate. Be a leader and trust in your team.
Learn to say more with less and master the art of short and sweet meetings. Most of your time as project manager will be spent leading or attending meetings. Also, you cannot always accept everything … learn to say no (or delegate).
5. Problem solving / Conflict management
Companies are looking for people that can quickly find solutions to unexpected problems. When unexpected conflicts happen in your workplace, they can impact your team, your project and your health.
Problem solving skills will assist you in resolving conflicts through helping you to objectively address a problem and consider the various possible solutions for it.
Dealing with conflicts demand a project manager that can develop some additional skills like:
Active listening
Emotional intelligence
Impartiality
Open communication (once again… communication)
Patience
Positivity
TOP 05 HARD SKILLS that will make the difference when applying for a job in project management
1. In-depth knowledge of project management concepts – PMP, CAPM, PRINCE2 certifications
Needless to say that having an in-depth knowledge of project management concepts is mandatory for any person aiming to work in this field.
But to confirm my point, you can check this post from Global Knowledge that states that having project management knowledge is one of the 10 most important IT skills for 2019
To be recognized as a certified project manager you can choose among some of the most adopted certifications. If you have some project management experience you can take the PMP exam. If you don't have any formal project management experience you can take the CAPM or PRINCE2 exams.
On my next post I will give you more information on how to apply for each certification.
2. Knowledge about the Agile approach – especially the Scrum method
Understanding the Agile approach is in eighth place in the most requested IT skills in 2019.
In project management there are many frameworks and methodologies that will help you deliver your projects. Each one has its own strengths and weaknesses. Agile is the methodology that is growing the most in the recent years.
In the same way that you are well recognized through a project management certification, the Agile certifications will also open the doors of the job market for those who have it.
There are many Agile certifications available in the market, like ACP – Agile Certified Professional, CSM – Certified Scrum Master or PSM – Professional Scrum Master.
Stay tuned for my next post where I will give you all the information you need to be Agile certified.
3. Mastery of Excel software
Microsoft Excel is an excellent tool for managing small to medium-sized projects. For everyday use in project management, Excel is very useful when you need to create and manage lists and databases.
Excel is also a great tool to create project dashboards and status reports.
Finally, Microsoft Excel uses the same database platform as Microsoft Project (one of the most used software in project management). This makes it much easier to export and import information when it is necessary to use graphics and data processing tools in Excel.
4. Knowledge of planning techniques
One of the pillars of project management is planning. The success of your project is directly linked to the quality of your planning. There are several techniques of traditional project planning, such as:
Brainstorming
Cause and effect diagrams
Critical path analysis
Gantt charts
Work breakdown structures
PERT – Program Evaluation and Review Technique
In Agile projects you can use one or more of the following techniques:
Planning poker
T-Shirt Sizes
Dot voting
The bucket system
Large/Uncertain/Small
Affinity Mapping
Ordering method
5. Knowledge of presentation techniques
Do not be fooled… if one day you manage a project, you will certainly have to make a presentation to your steering committee on the progress of your project.
Many people get stressed because of shyness or difficulties when speaking to a group. Public speaking is something we can all learn and develop as a project management skill.
There are several techniques that help us control emotions and stress during a presentation. In addition, there are also techniques that make our presentations more attractive and keep the audience interested and participative.
I will make a post explaining some of the best techniques to help you make an outstanding presentation. Meanwhile, here are some tips and tricks:
Use images instead of texts. A picture is worth more than a thousand words according to a popular saying
Practice, practice, practice
Storytelling – Tell stories and anecdotes to help illustrate points
Check out the presentation room and the available structure – Arrive early and visualize the room, the equipment and the presentation file. Make sure you have everything you need to make your presentation.
What are your comments about this post? What other soft or hard skills do you think will make you the right choice when interviewing in the Project Management domain?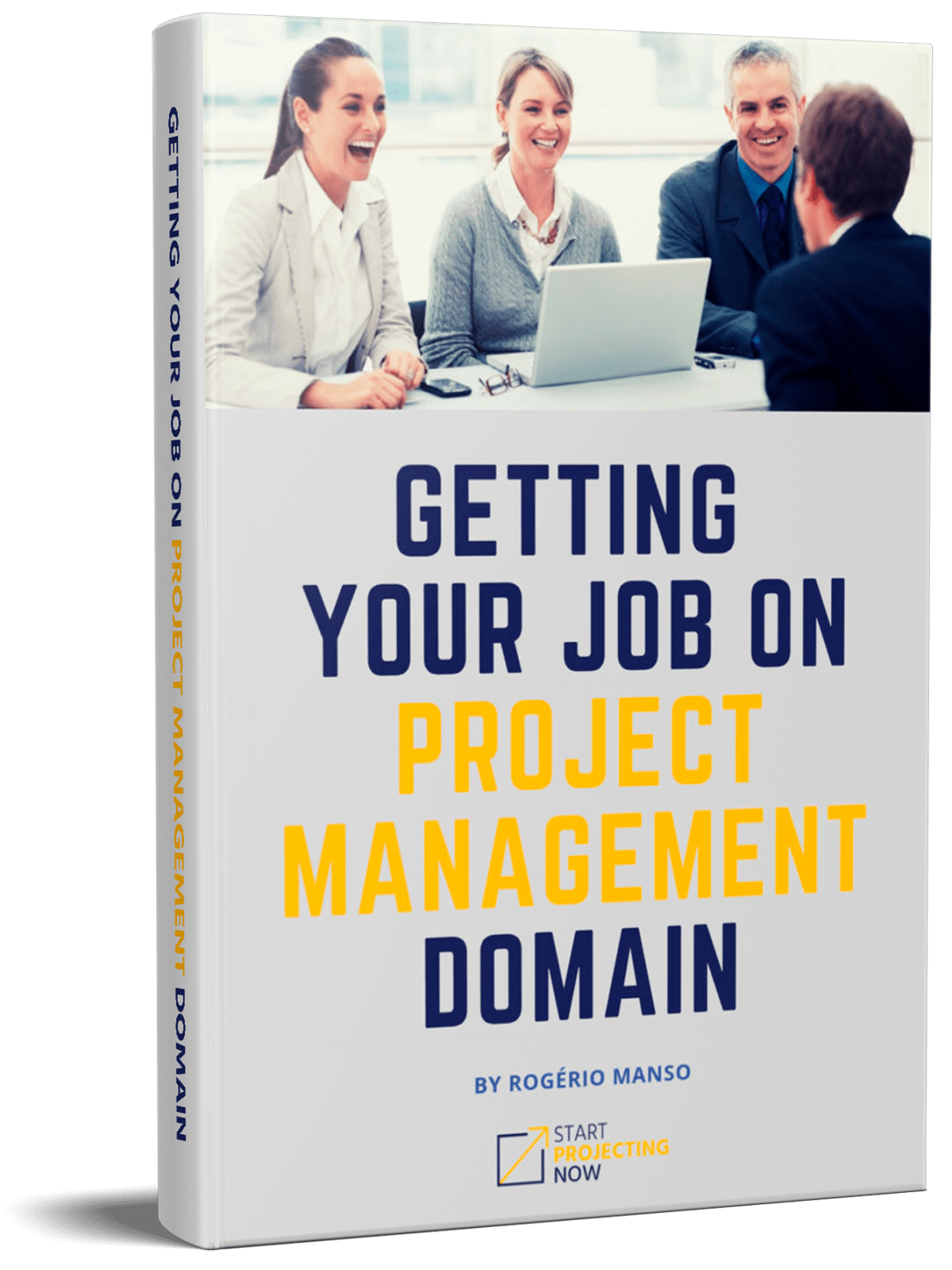 Download your free ebook 'Getting your job on Project Management domain'.